UK regional leaders are urged to prepare for autonomous vehicle
Posted on: 04/11/2020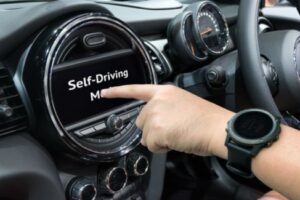 Zenzic, the organisation created by Government and industry to champion a connected and self-driving environment in the UK, has called on regional leaders and infrastructure providers to prepare for the next phase in autonomous driving. The organisation is investing millions of pounds in a variety of programmes with the aim of making autonomous vehicles (AVs) a reality.
Zenzic launched an updated Roadmap to enable organisations to identify partnerships and investment opportunities across the industry. The updated Roadmap shows the UK's current state of readiness, including which areas the UK is leading in globally, and what challenges need to be tackled to ensure that the UK will be able to benefit from safe self-driving vehicles on roads in the next decade.
The first edition of the UK Connected and Automated Mobility Roadmap to 2030, launched in September 2019, outlined several 'key enablers', activities and developments which were required in order to compete in the market. Zenzic claims that UK-based organisations are making great strides in laying foundations around safety standards, cyber security planning, legal frameworks and defining vehicle and infrastructure data connectivity requirements. Specifically:


The release of two publicly available specifications from the BSI, (PAS 1880 and PAS 1881) which tee-up safety standards for the testing of self-driving vehicles


The Law Commissions has completed two consultations around automated vehicles, with the process due to be concluded in 2021


The UNECE's World Forum for Harmonization of Vehicle Regulations adopted two new regulations on cyber security and software updates. The UK heavily contributed to these regulations, which are the first internationally harmonised and binding norms in this area.


The UK is also on track when it comes to defining the data requirements for vehicle and infrastructure data sharing. Both through work on the A2M2 connected corridor as part of the EU's InterCor project, and the development of the geodata report by Zenzic and Ordnance Survey which provides recommendations for high-definition mapping data.


The second edition of the Roadmap adds a range of features designed to make collaboration across the UK self-driving development industry easier. Roadmap activities have been assigned topic-based tags, which make it easier for organisations to find relevant activities and see who they can collaborate with. The new Roadmap also debuts 'CAM Creators', 117 companies who have identified themselves as having a core role in the development of CAM services and technology. Roadmap users can find which CAM Creators are active in their relevant sector and connect with them.
The tags have also revealed the ten sectors in which the UK currently has the highest number of companies active in the development of self-driving vehicle technology.


Software


Automation


Testing


Safety


Connectivity


Freight and logistics


Sensors


Infrastructure


Communications


Cyber security


These new insights show where UK companies are well placed to deliver core elements of CAM. Trials of connectivity and automation technology in the freight and logistics sector have already shown promise in reducing carbon emissions and increasing efficiency through innovations like platooning. CAM Testbed UK, the country's network of self-driving technology test facilities has been crucial in supporting the testing and evolution of cutting-edge technology and solutions.
The Roadmap also shows that only a fifth of the activity necessary for self-driving vehicles to be on our roads by 2030 is related directly to the scale-up and deployment of CAM, and only 10% is related directly to the development of self-driving vehicles. Most of the work that needs to be done over the next 10 years is related to safety, testing and ensuring the technology and infrastructure is in place and thoroughly tested.
What needs to happen in 2021
According to Zenzic, ensuring all UK cities and regions are CAM-ready is one of the most important steps that needs to be taken in the next 12 months. Progress is already being made at a national level to introduce self-driving technology into our road networks, such as the recent launch of the Government's Automated Lane Keeping System call for evidence. Two further pieces of work which require continued and immediate collaboration are:


The definition of communications standards for highways, coupled with the mandating of safety messages in highways standards


The agreement of a blueprint for CAM-ready highways and rural-environments


Mayors, regional leaders, and infrastructure providers need to work together to identify local requirements and develop a plan for putting the necessary infrastructure in place, including connectivity. Increased support is also needed for local government capabilities to ensure readiness for connected vehicles, some models of which are already on our streets. This work needs to be undertaken urgently to ensure progress in the development of self-driving vehicles does not stall, causing the UK to lose its current world-leading status.
Daniel Ruiz, CEO, Zenzic commented; "Getting self-driving vehicles onto our roads and developing the services which will change the way people travel and goods are moved in the UK is an incredibly complex task. We know that collaboration across government and industry is necessary for us to be able to benefit from self-driving technology, and this new edition of the UK Connected and Automated Mobility Roadmap to 2030 builds on the successes we have already seen, while also introducing new features which make this collaboration even easier."
Joanna White, Head of Intelligent Transport Systems, Highways England: "Highways England is committed to achieving connected and automated mobility, working with partners and stakeholders. The CAM Roadmap is important so that we can ensure we are linking our work, delivering our digital roads ambitions, to the associated Roadmap activity. It also highlights opportunities for collaboration, so that we can support activities that help us develop a network that enables CAM."